Benefits of Vuforia Studio - Augmented Reality (AR) in manufacturing: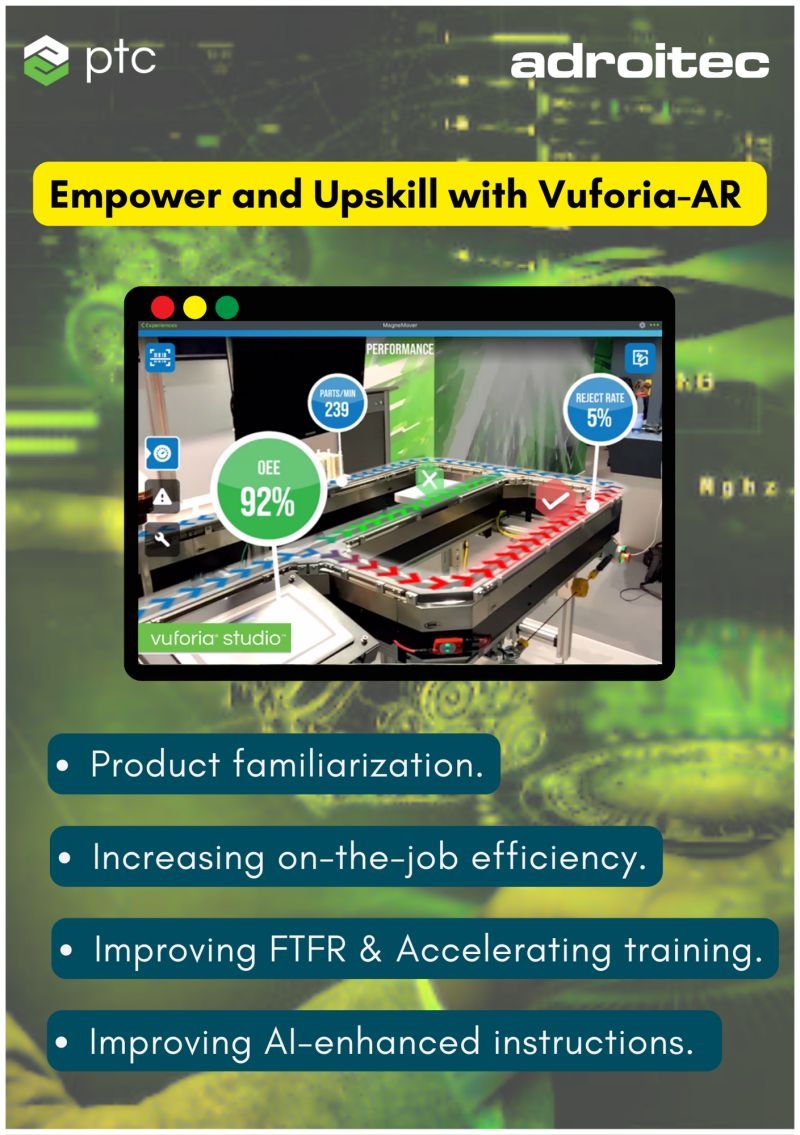 Better training and upskilling:
One of the critical challenges many industrial verticals must contend with is talent acquisition and retention. The current economic landscape has made this issue even more fraught as organizations wrestle with hiring slowdowns or freezes despite the fact that they still need skilled workers, and the ones they have are often saddled with outdated processes and tools. AR helps address these challenges in several ways. A primary use case of AR is for training new hires or upskilling existing employees by using interactive visual guides that enhance learning and retention, shortening the time it takes for a person to ramp into a new role. Often, these training modules are created through user-friendly AR expert capture capabilities, allowing seasoned employees to share their institutional knowledge quickly and seamlessly.
Increasing on-the-job efficiency:
AR's benefits don't end with training. With the right AR software, employees can increase their on-the-job efficiency by leveraging technology to deal with complex problems and processes. AR makes it possible for employees to access step-by-step digital instructions, instructional videos, blueprints, and more. These digital assets can dramatically improve the employee's ability to get the job done more quickly and efficiently while eliminating errors because the instructions are in context to the machine they're working on.
Remote experts can drive problem-solving:
If an employee runs into a problem they can't solve alone, AR allows them to connect to a remote expert who can help. AR can show an off-site expert what the person sees in front of them, making it possible to solve issues on the spot. Remote collaboration remains a crucial use case among AR adopters because it helps new employees become more proficient, and eliminates the cost and time associated with sending out a second person.
AR's ability to drive efficient remote collaboration does more than speed the time to completion of critical jobs. It can dramatically enhance a company's drive toward increased sustainability. As organizations get serious about their environmental, social, and governance (ESG) goals, AR can play a primary role in reaching them.
Many companies already have a wealth of digital assets in the form of CAD data that they can leverage to begin the process of building out AR capabilities and experiences. With careful planning, they can link these AR applications to their product lifecycle management (PLM) software to ensure employees always have the most current product data and instructions.